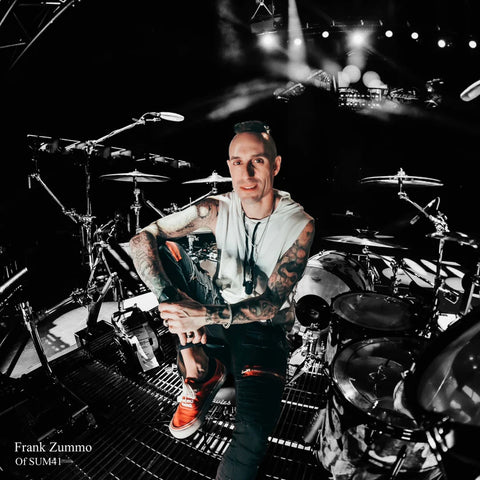 Why Handmade Sleeveless Designer Hoodies are Worth the Investment
Hey there, fashion-forward friends! Let's explore the exciting world of sleeveless designer hoodies and see why they're an investment you will never regret. The clothes we wear help express our personal stories and unique sense of style. This we know first-hand, as do many other California-based fashion designers and musicians! So, let's read on and learn of the promise of handmade hoodies!
The Magic of Handmade Construction
The Artistry Behind Handmade Garments
Handmade sleeveless designer hoodies are far more than just clothing – they're wearable masterpieces. Talented GhostCircus artisans put their hearts into every hand-delivered cut and stitch, resulting in creations that mass-producers cannot hope to match. When you purchase a handmade hoodie, you not only wear a fashionable garment, you also showcase the creativity and passion that went into its making.
The Quality Difference
One of the most significant benefits of handmade sleeveless designer hoodies is the use of superior materials. High-quality fabrics such as premium cotton and luxurious cashmere, ensure that your hoodie will stand the test of time. In addition, expert construction means that your hoodie will maintain its shape and style, even after countless wears and washes. When you invest in a handmade hoodie, you're investing in a great garment that's built to last.
Investing in Your Personal Style and Self-Esteem
GhostCircus Apparel's designer hoodies draw on this history, but elevate the garment to a luxury item. Designed by celebrity fashion designer eli james and handcrafted in America, GhostCircus Apparel's hoodies are made from premium fabrics and feature unique designs that stand out from the crowd. 
Showcasing Your Unique Identity
You communicate your personal story and sense of style when you wear a sleeveless designer hoodie. GhostCircus garments make a statement - you not only stand out from the crowd, you reveal your individuality. Investing in designer fashions is a confidence boost; you know you are wearing one-of-a-kind pieces that reflect your inner self. After all, your stylish wardrobe should be an extension of who you are, and what better way to express this than with a collection of designer hoodies?
Elevating Your Wardrobe
Sleeveless designer hoodies are versatile. They can be effortlessly incorporated into numerous outfits. Pair them with jeans and sneakers for a casual look; or dress them up with tailored trousers and leather shoes for a night out on the town. The possibilities are endless. And with the right designer hoodie, you'll elevate your wardrobe and make a lasting impression wherever you go.
The Sustainability Factor
Ethical Fashion Choices
When you choose GhostCircus' handmade sleeveless designer hoodies, you also make an ethical fashion choice. A handmade garment's greatest virtue is its limited environmental footprint. Designer hoodie artisans use the most energy efficient methods available to produce their garments, especially compared to corporate and mass-produced items. These artisans are also conscious of the amount of waste that results from mass produced garments and consciously choose to significantly limit the amount of waste they produce through their handmade methodologies. By investing in designer hoodies, you not only look good, you also protect the planet.
Supporting Local Artisans and Small Businesses
Purchasing handmade designer hoodies supports local artisans and small business, two of the most important aspects of any thriving community. Artists and small-business owners rely on customers like you to keep their businesses alive and thriving. By choosing to invest in handmade garments, you endorse the human element of community business.
Where and How to Buy Designer Sleeveless Hoodies
Shopping Tips for First-Time Buyers
The following tips will guide your decision to buy a GhostCircus designer sleeveless hoodie: 
Consider the fit - make sure the hoodie fits comfortably and allows for freedom of movement;
Pay attention to materials - look for high-quality fabrics that feel good and will maintain size and shape; 
Choose a style that speaks to you and for you - find a design that reflects your personality and boosts  your confidence;
Research the designer - get to know the GhostCircus story and ensure that the company's values align with your own; 
Read the reviews -  check out what other customers have to say about their hoodies to ensure they meet your expectations.
Finding Reputable Designer Fashion Retailers
When shopping for GhostCircus designer sleeveless hoodies, it's essential to buy from reputable retailers that offer authentic products. Begin your purchasing journey by exploring local designer boutiques in your area, as supporting local talent is always best. You can also browse online at GhostCircus Apparel - you will discover an incredible number of unique, handmade designer hoodies.
Caring for Your Investment
Proper Maintenance and Cleaning
Once you've invested in a designer hoodie, you'll want to ensure that it remains in top-notch condition. Follow these tips for proper maintenance and cleaning:
Read the care label - always follow the care instructions provided by the manufacturer to keep your hoodie looking its best;
Gentle cleaning - hand wash or use a gentle cycle when machine washing your hoodie to prevent damaging the fabric;
Air dry - avoid using a dryer as high heat can also damage the hoodie - air dry your hoodie on a flat surface or hang it up to dry.
Storage Tips
Proper storage is crucial to maintaining the longevity of your designer hoodie. Here are some storage tips to help preserve your investment:
Fold, don't hang - hanging your hoodie can stretch or distort the fabric - fold it neatly instead and store it on a shelf or in a drawer;
Use moth protection - store your hoodie with natural moth repellents like lavender or cedarwood to prevent damage from moths or other pests;
Keep it clean - always ensure your hoodie is clean before storing it - dirt and oils can lead to fabric degradation.
Conclusion
Investing in GhostCircus handmade sleeveless designer hoodies is a smart decision for those who appreciate quality, craftsmanship, and personal style. Remember: sleeveless designer hoodies are versatile. They are also 'statement pieces' that elevate your wardrobe.
Why not compliment your unique identity with a GhostCircus sleeveless designer hoodie while promoting their artisan-based, ethically-made fashions to help sustain the planet? Go ahead.
Explore the world of the artisan designer and let your clothes enhance your story. With the right GhostCircus handmade sleeveless hoodie, you'll not only look great, you'll also feel great knowing you've made an investment that benefits a world in need of our care.
---
GhostCircus Apparel is the official store for unique, luxury apparel by celebrity fashion designer, eli james.
eli james is the secret weapon for musicians (Twenty One Pilots, No Doubt, SUM 41, Papa Roach, Black Veil Brides, Sleeping With Sirens, Tim Skold, Escape The Fate), magicians/ illusionists (Joseph Réohm, Joel Meyers, Spidey and Leon Etienne), celebrities like Tara Conner, Ellen Degeneres, Adam Ross and more.
Since its creation in 2015, GhostCircus Apparel has become a household name and brings a future twist to modern fashion.
Clothes that move with you as you move through life. Shop GhostCircus Apparel today.
Did you enjoy this post about sleeveless designer hoodies?
Here are two to read next: