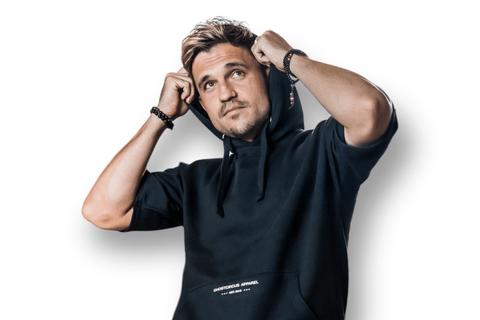 The Top 5 Reasons Why You Need a Designer Hoodie in Your Wardrobe
Are you tired of your plain, mass-produced hoodies? Ready to upgrade your wardrobe and elevate your style? Look no further than GhostCircus Apparel's selection of men's designer hoodies. As a luxury fashion brand based in California, we know the importance of quality materials and unique designs. Let's take a look in more detail at the top 5 reasons why a men's designer hoodie is a must-have in any wardrobe.
Reason 1: Men's Designer Hoodies are made from High-Quality Materials
The primary reason you need a men's designer hoodie in your wardrobe is because of the high-quality materials. Men's designer hoodies are made with premium materials like high-quality cotton or wool. Unlike mass-produced hoodies that are made with cheap, synthetic fabrics, these materials feel great against your skin and create a comfortable and durable garment.
Designer brands typically make use of the finest materials for their hoodies. Luxury manufacturers source materials from the best suppliers in order to offer the highest quality products. When possible, purchase hoodies handcrafted in America because garments that are American made meet a remarkably high standard of excellence. The result is a product that feels like an effortless addition to your wardrobe and looks like one too.
Reason 2: Attention to Detail
The attention to detail poured into each garment is another reason to consider a men's designer hoodie. Designer hoodies are created with a level of detail that you can't find in fast-fashion retail stores. From custom embroidery to hand-stitched accents, details are often thoughtfully crafted to elevate the hoodie's overall design and quality.
Details make all the difference. That's why it's important to search for manufacturers that take a hands-on approach to creating designer hoodies. Luxury designers work closely with their production teams to make sure that every hoodie they produce meets remarkably high standards. Pay close attention to the details that matter, like the stitching, the zippers, and the pockets. The outcome? A hoodie that you'll be reaching for over and over again.
Reason 3: Men's Designer Hoodies are Versatile
Consider a designer hoodie to add versatility to your wardrobe. Men's designer hoodies can be dressed up or down for various occasions, making the garment a smart investment. You can wear a designer hoodie with jeans and sneakers for a casual look, or dress it up with a blazer and dress shoes for a more formal event.
And when it comes to maximizing versatility, a men's designer hoodie will not let you down. But with so many options on the market, make sure to look for fabrics and styles that inspire your unique sense of style. Look for garments that feel imaginative and spark a sense of creativity. By doing so, you'll choose designer hoodies that are a clear representation of you and that will become a longtime staple in your wardrobe. 
Reason 4: Self-Expression
A designer hoodie in your wardrobe can be used as self-expression. Highlight your personal style and stand out from the crowd in a hoodie that represents you. 
Look for hoodies that feature unique designs and patterns that can't be found in fast-fashion. Wearing this type of garment gives you the opportunity to show the world who you are. Not only does owning a men's designer hoodie make a statement about your individuality, it's a commitment to high-quality, long lasting pieces and your own personal style. 
Reason 5: Investment Value
When you combine all of the reasons above, you come to our fifth reason to purchase a designer hoodie: it's an investment. Designer hoodies are a worthwhile purchase because they are made with quality materials and attention to detail. The pieces are versatile enough to be worn on many occasions, but specific enough to exemplify your personal sense of style. 
Another unique bonus of investing in a designer hoodie is that they're often produced in limited runs, which makes each garment priceless because you won't find the same hoodie on every street corner. When you choose a men's designer hoodie, it's not just a piece of clothing, it's a piece of wearable art.
Conclusion
Men's designer hoodies are a must-have in any wardrobe. They are made with high-quality materials; high attention to detail, versatility, and self-expression; and they represent a wise investment for the conscious consumer. At GhostCircus Apparel, we specialize in designer hoodies and offer a wide range of styles and fabrics to best suit your style. Our products are handcrafted in America and made with the finest materials.
We know that our customers value quality, and we're committed to providing the best garments possible. Our men's designer hoodies are created to last and are made to be unique. We believe that our customers deserve the best, and we want to provide them with high quality designer hoodies at an affordable price.
Upgrade your wardrobe today and express yourself with GhostCircus Apparel's designer hoodies. We're committed to fashion that feels like the real you. Our style is owning who we are, because everything's better when we do. So, what are you waiting for? Check out our selection of designer hoodies today and take your wardrobe to the next level.
---
GhostCircus Apparel is the official store for unique, luxury apparel by celebrity fashion designer, eli james.
eli james is the secret weapon for musicians (Twenty One Pilots, No Doubt, SUM 41, Papa Roach, Black Veil Brides, Sleeping With Sirens, Tim Skold, Escape The Fate), magicians/ illusionists (Joseph Réohm, Joel Meyers, Spidey and Leon Etienne), celebrities like Tara Conner, Ellen Degeneres, Adam Ross and more.
Since its creation in 2015, GhostCircus Apparel has become a household name and brings a future twist to modern fashion.
Clothes that move with you as you move through life. Shop GhostCircus Apparel today.
Did you enjoy this post about men's designer clothes?
Here are two to read next: