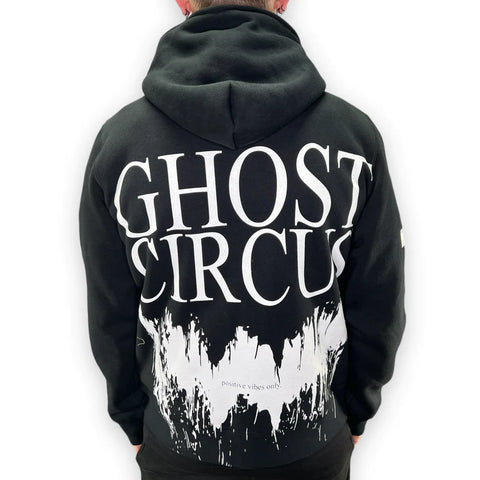 Unleash Your Inner Rockstar: 5 Reasons to Buy Designer Hoodies
You've probably heard the saying "dress for the person you want to become." Quality premium clothing helps create the individuality so essential for today's rising star. Personal identity is everything. But so is comfort. And there's no better way to reveal your genius than by wearing a designer hoodie. In this post, we'll explore the top five reasons why stand-out designer hoodies should be a staple in every man's wardrobe.
Reason 1: Set Yourself Apart with Unique Designs
The artistry behind designer hoodies
Designer hoodies are unique in a world full of cookie-cutter fashion. GhostCircus Apparel understands the importance of its exquisite artistry in creating one-of-a-kind designs to enhance a person's fashion profile.  Exceptional patterns coupled with a superior fit, ensure that each piece tells a unique story about the person inside it.
Stand out from the crowd with men's designer hoodies
You don't want to blend in with the masses, do you? Men's designer hoodies allow you to free yourself from  common, everyday, off-the-shelf, commercial hoodies in showcasing your true rockin' style. Designer hoodies shout the loudest. They turn heads. People notice the difference. You feel like a star. What could be better?
How designer hoodies sharpen your personal style
Designer hoodies elevate your look from ordinary to extraordinary, tastefully and effortlessly. Signature craftsmanship in distinctive patterns, imaginative emblems, and bold colors, compliment any combination in any style. From simple to sophisticated, designer hoodies afford the most memorable impression.
Reason 2: Experience Unrivaled Comfort and Quality
The use of premium materials in designer hoodies
Quality matters when it comes to premium clothing. Designer hoodies are made with the only best cloth available. Designer hoodies are carefully hand-stitched with the most durable thread on the market. State-of-the-art tools allow the artist to hand-assemble a superior garment that always pleases the most discerning consumer.
The craftsmanship that goes into each designer hoodie
Integrity and honesty are pivotal to the professional manufacturer's promise of excellence. It's the hands-on approach in a fair and transparent business model that wins consumer satisfaction and the confident referrals that always result. Business models only succeed with meticulous craftsmanship. Designer hoodies reflect this success.
The long-lasting nature of quality hoodies

A well-crafted designer hoodie is more than just a trendy piece of clothing; it's a long-term investment in your wardrobe. A quality garment cared for properly will remain in great condition, even after countless wears and washes, making designer hoodies the wisest wardrobe choice.
Reason 3: Versatility for Any Occasion
Dressing up or down with designer hoodies
Whether you're hitting the town or lounging at home, you can adapt designer hoodies for any occasion. With the right clothing combinations and stylish accessories, a designer hoodie can easily take you from a casual day out to a sophisticated evening event.
Layering designer hoodies for seasonal wear
Even though the hoodie was developed to combat the coldest of working environments, designer hoodies aren't just for cold weather. They're the perfect layering piece for year-round style. Pair them with a lightweight jacket or a stylish coat, and you've got a versatile outfit that allows for easy transition, season after season.
Pairing designer hoodies with a variety of outfits
The beauty of designer hoodies exists in their ability to complement a wide range of personal garments. From jeans and sneakers to tailored pants and dress shoes, these hoodies can work with almost anything in your wardrobe, giving you endless options for expressing your personal style.
Reason 4: Showcase Your Personality and Style
How designer hoodies reflect your inner rockstar
Your clothing choices are an extension of your personality and designer hoodies are the perfect way to express your inner rockstar. Designer hoodies allow you to express the unique sense of style that accommodates success while ensuring that you are always being true to yourself.
The role of designer hoodies in defining your personal brand

In today's world, personal branding is more important than ever. Designer hoodies play a pivotal role in creating a signature look that reflects your values, passions, and individuality. When you wear a designer hoodie, you're making a statement about who you are and what you stand for.
The influence of music and pop culture on designer hoodie trends
Designer hoodies often draw inspiration from music, art, and pop culture. Pieces are created to resonate with those who share similar interests. By incorporating elements from various creative spheres, designer hoodies help you connect with others who appreciate the same influences in celebrating your shared passions.
Reason 5: A Worthwhile Investment in Your Wardrobe
The long-term value of buying designer hoodies
While the initial cost of designer hoodies might be higher than their commercial counterparts, long-term value far exceeds difference in price. The combination of quality materials, expert craftsmanship, and timeless designs, make these hoodies a worthwhile investment that lasts for years.
The satisfaction of owning unique and stylish garments
There's nothing quite like the feeling of owning a piece of clothing that truly reflects your personality and style. Investing in designer hoodies boosts confidence and increases self-esteem
How investing in yourself boosts confidence and self-esteem
Wearing quality clothing like designer hoodies can have a profound impact on how you feel about yourself and how people see you, too. When you buy designer hoodies, you're making a conscious decision to prioritize your self-worth and present the best version of yourself to the world.
Conclusion
Designer hoodies offer unparalleled style, comfort, quality, and versatility, making them an essential addition to any man's wardrobe. You're not only elevating your personal style but also embracing your true self when investing in designer hoodies.
So, go ahead, unleash your inner rockstar and explore the world of designer hoodies – you won't be disappointed. And when you do, don't forget to share your favorite designer hoodie moments and experiences with us. Rock on!
---
GhostCircus Apparel is the official store for unique, luxury apparel by celebrity fashion designer, eli james.
eli james is the secret weapon for musicians (Twenty One Pilots, No Doubt, SUM 41, Papa Roach, Black Veil Brides, Sleeping With Sirens, Tim Skold, Escape The Fate), magicians/ illusionists (Joseph Réohm, Joel Meyers, Spidey and Leon Etienne), celebrities like Tara Conner, Ellen Degeneres, Adam Ross and more.
Since its creation in 2015, GhostCircus Apparel has become a household name and brings a future twist to modern fashion.
Clothes that move with you as you move through life. Shop GhostCircus Apparel today.
Did you enjoy this post about designer hoodies?
Here are two to read next: