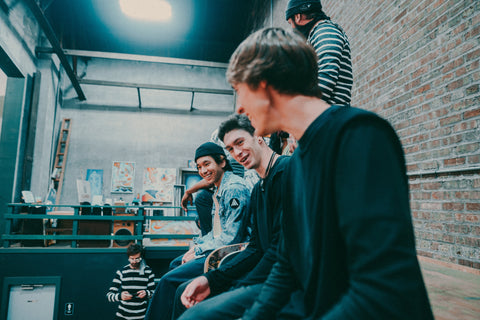 The Benefits of Investing in Designer Men's Clothing
Designer men's clothing has become a popular trend in recent years, with more and more men investing in high-end clothing brands. These designer brands offer a range of benefits, from quality and durability to unique style and investment value. In this blog post, we will explore some of the reasons why investing in designer men's clothing may improve your life, along with some benefits of wearing high-end clothing.
The Quality and Durability of Men's Designer Clothes
One of the primary benefits of investing in designer men's clothing is the use of high-quality materials and expert craftsmanship. Designer brands use the finest materials available – they want each investor to feel like what he's buying is made to last a long time. Expert craftsmanship goes into each piece of designer clothing, and long hours are spent on the sewing machine, because each piece must be of the highest quality, and provide the one who invests in it with a durable and long-lasting product.
Men's Designer Clothes: A Unique Style
Designer men's clothing can translate to 'unique style' – part of the allure of designer men's clothing, indeed a big part of what sets it apart from other clothing brands, is that garments are often custom made, or one-of-a-kind, and even when there is more than one of the same kind, the materials used in the garment's construction are typically in limited supply. What does this mean for you? Well, as the saying goes, with designer clothing you can stand out from the crowd and make a statement with your fashion choices. There's only one of you, and the best men's clothing designers do everything in their power to help you reflect yourself in your personal style. 
Boost Confidence with Men's Designer Clothes
We often dream about the person we want to be, and we can't escape the fact that the clothes we choose to wear say something about who we are, because when we don't wear who we are on our sleeves, we're hiding something. Our self-esteem suffers, and we regret that we don't sometimes have the courage to display ourselves with pride. When we invest in designer men's clothing, we give ourselves just a bit of an edge – we know we're making something of quality, that's well made and made with passion, and that gives us cause for further exploration into ourselves and how we want to look to the world. This is powerful, and brands who take designer clothing seriously examine every opportunity to capture all the shades your personality has to offer. If you're on the mellower side, check out this Incognito Collection by GhostCircus Apparel; if you're feeling a bit crazier, take it 'On the Edge', with some eli james' wilder imaginings.
Men's Designer Clothes: A Wise Investment
Of course, investing in yourself pays in more than just social currency and self-confidence – because your designer men's clothing is meant to last, and is often unique in and of itself, your designer clothing articles do not depreciate like garments that wear out, fray, and lose their form with time, and which aren't original pieces to begin with. Instead, your designer men's clothing can often appreciate with time, or, at the very least fetch you a fair price, so if you feel like making a change, you can, and it won't cost you the same as buying brand new all over again.
Final Thoughts 
If there's a single lesson to be gained from this, it's that when we're looking for what we should wear, we ought to be asking ourselves first who we are, and second who we want to be, and three how we want to be seen. Designer men's clothing, beyond the durability, and quality, and the monetary investment value, is a statement, from the designer to the wearer, and from the wearer to the world. Each piece comes with its own alphabet, and each outfit worn comes with its own vocabulary. Learning to speak this language of designer men's clothing for yourself, and translate who you are through what you wear, is 'fashion for the real me'. 
---
GhostCircus Apparel is the official store for unique, luxury apparel by celebrity fashion designer, eli james.
eli james is the secret weapon for musicians (Twenty One Pilots, No Doubt, SUM 41, Papa Roach, Black Veil Brides, Sleeping With Sirens, Tim Skold, Escape The Fate), magicians/ illusionists (Joseph Réohm, Joel Meyers, Spidey and Leon Etienne), celebrities like Tara Conner, Ellen Degeneres, Adam Ross and more.
Since its creation in 2015, GhostCircus Apparel has become a household name and brings a future twist to modern fashion.
Clothes that move with you as you move through life. Shop GhostCircus Apparel today.
Did you enjoy this post about men's designer clothes?
Here are two to read next: