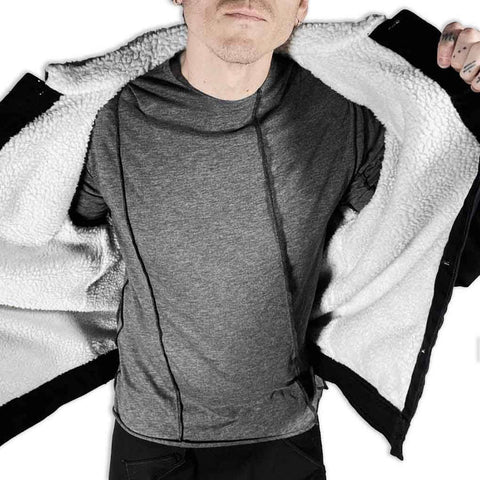 The Art of Layering: Mastering the Mens Designer Jacket Look for Any Season
Welcome, fashion-savvy men of the world! Spearheaded by California-based designer and musician, eli james, we at GhostCircus know the importance of expressing our personal identity through the clothes we wear. One reliable way to elevate both your wardrobe and your self-esteem is by mastering the art of layering with men's designer jackets. GhostCircus offers the necessary versatility to transform your look through any season, making your designer garments the ultimate investment for your style odyssey.
The Basics of Layering with Mens Designer Jackets
Understanding the different types of layers
Before we discuss the specifics of layering for each season, let's examine the basic layers you'll be working with:
Base layers - these garments are your foundation pieces - they include t-shirts, button-ups, and thin sweaters;

Middle layers - the middle is where you add the insulation required for the warmth you wish to achieve - vests and thicker sweaters are typically employed to meet your warmth requirements;

Outer layers - the pièce de résistance in a man's designer jacket is the outer layer that protects you from the elements while showcasing your personal style.
Choosing the right materials for each layer
Selecting the right materials is essential for effective layering:
Base layers - opt for breathable skin-hugging fabrics like cotton or moisture-wicking, merino wool-based undergarments to keep you warmer and dryer while avoiding the irritation that so often produced by dampness and chafing;

Middle layers - you should look once again for insulating fabrics like merino wool or fleece to provide warmth and dryness without bulking up with mobility-limiting heavier fabrics;

Outer layers (men's designer jackets) - prioritize protective and stylish materials, such as leather or high-quality synthetics, that offer durability and a polished finish.


Spring Layering: Embracing Lighter Fabrics and Colors
Selecting the perfect men's designer jackets for spring.
When spring rolls around, it's time to dress in lighter materials that reflect the spring's exciting colors. Choose men's designer jackets in lightweight fabrics such as cotton, linen, or nylon blends. Embrace the warmth of the spring season by incorporating the brightness of pastel colors with your jacket choices.
Layering tips for unpredictable spring weather
Spring weather can be fickle. So it's essential to know what to buy in a men's designer jacket in order to adapt to spring's changing temperatures. Note that when you are buying a men's designer jacket, you should look for jackets with removable linings or adjustable features such as drawstrings and/or zippers, and consider pairing your designer jackets with spring wardrobe staples, such as light sweaters, long-sleeve shirts, and chinos, to create a versatile ensemble that can handle anything Mother Nature throws your way.
Summer Layering: The Art of Staying Cool and Stylish
The role of men's designer jackets in summer layering
Summer might seem like an odd time to wear a designer jacket. But you can actually remain cool and stylish when you choose your summer garments wisely. In order to be comfortable in warmer weather, opt for breathable and lightweight men's designer jackets in materials like linen or cotton blends. Make a statement with bold patterns and colors that showcase your personality and your willingness to get out into the sunshine for some much-needed kick-back time with family and friends. Appreciate the compliments you'll undoubtedly receive for your dope summer apparel.  
Tips for mastering summer layering with designer jackets
To stay comfortable in the heat while rockin' your designer jacket, keep these tips in mind:
Balance heavier layers with lighter base layers like tank tops or thin t-shirts that reveal your tuned-up shape.

Pair your jackets with summer essentials like shorts and sandals for a breezy, fashion-forward look.
It's easy to make a tasteful fashion statement while rockin' the coolest summer designer styles. Take a look at the GhostCircus website. Be the envy of any summer event in your comfortable form-fitting designer jacket! 
Autumn Layering: Capturing the Essence of Fall Fashion
Men's designer jackets are perfect for autumn
As the leaves change color, so should your wardrobe. Choose men's designer jackets in rich deep colors and textured materials such as suede, corduroy, or waxed cotton, to create a cozy autumn aesthetic.
Expert layering tips for the fall season
To truly master fall fashion, follow these layering guidelines:
Mix patterns and textures to create depth and interest in your outfit. And always incorporate cozy accessories like scarves, beanies, and/or leather gloves to complement your designer jackets and stay warm in style.
Winter Layering: Staying Warm and Fashion-Forward
Choosing men's designer jackets to combat the cold
You know it's time to bring out the big guns when the temperature drops. Invest in a well insulated and heavyweight men's designer jacket that provides warmth without sacrificing style. Look for timeless options such as wool coats, puffer jackets, and leather bombers to achieve a polished and sophisticated winter look. GhostCircus offers a truly appealing range of bomber styles to suit all tastes and needs. From the Premier Limited Edition Bomber to the Camo and Nocturnal Design Bombers, GhostCircus offers a jacket to meet your taste and your budget. 
Winter layering secrets with designer jackets
Master the art of winter layering with these helpful tips:
Pair your designer jackets with coordinating scarves, gloves, and hats to elevate your ensemble and stay cozy in the cold;

Use layering techniques like wearing thermal base-layers and chunky knit sweaters underneath your jackets to stay warm without sacrificing style.
Conclusion
Now that you've got the inside scoop on layering men's designer jackets for any season, it's time to put your newfound knowledge to the test. Experiment with different combinations and styles to create unique outfits that showcase your personal flair. Remember, the right designer jacket not only elevates your wardrobe but also your self-esteem. So go ahead and buy a GhostCircus designer jacket! Let your true self resonate with the GhostCircus designer jacket of your choice and allow your rockin' inner fashionista to shine all year long!
---
GhostCircus Apparel is the official store for unique, luxury apparel by celebrity fashion designer, eli james.
eli james is the secret weapon for musicians (Twenty One Pilots, No Doubt, SUM 41, Papa Roach, Black Veil Brides, Sleeping With Sirens, Tim Skold, Escape The Fate), magicians/ illusionists (Joseph Réohm, Joel Meyers, Spidey and Leon Etienne), celebrities like Tara Conner, Ellen Degeneres, Adam Ross and more.
Since its creation in 2015, GhostCircus Apparel has become a household name and brings a future twist to modern fashion.
Clothes that move with you as you move through life. Shop GhostCircus Apparel today.
Did you enjoy this post about designer hoodies?
Here are two to read next: