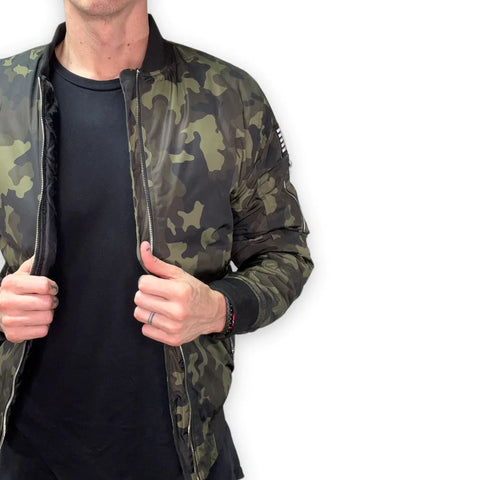 International Flair: Exploring Designer Jackets from Around the Globe
As both fashion designers and musicians, we know that wearing hip apparel is the most powerful form of self-expression. Stylish designer jackets in particular, elevate your wardrobe and reveal your awareness of the latest global fashion trends. We also understand that an international-quality designer jacket significantly informs your creative persona while enhancing your personal style on a global scale. Join us as we embark on a  designer-fashion information quest to discover the world's most fashionable designer jackets!
Europe: A Melting Pot of Fashion Inspiration
The Classic Italian Designer Jacket
Italian designer jackets are synonymous with sophistication and impeccable craftsmanship. Italy's rich textile and fashion history has made it the go-to destination for women and men looking to buy designer jackets that reflect both luxury and elegance. Designer jackets often feature premium materials like cashmere, wool, and/or fine leather, ensuring that you will feel as good as you look. Young men and women from around the globe travel to Rome at the end of January for the integral Altaroma fashion week. The fashion curious then wait for the warm weather to make their way to Florence for the acclaimed Pitti Immagine Uomo (Pitti Imagine Men) in mid-June, and then on to the famous Fashion Week in Milan (Italy's center for the tailoring of great outer garments) in late June. Florence, Milan, and Rome are also popular fashion-study centers where degree-granting institutions flourish as each caters to the fashion world's most talented teachers and students. A world-class symbiosis is reflected in the significant connection between the schools, the luxury fashion houses, the famous designer labels, and the manufacturers who significantly enable the culture with the exceptional efforts of their gifted and disciplined artisans. Various cultures and art forms are reflected in designed wear. The Italians employ the world's influences as does the world with Italian fashion!   
To incorporate Italian sophistication into your wardrobe, look for jackets with clean lines and a tailored fit. Consider a sleek, double-breasted blazer or a luxurious leather jacket in making a profound fashion statement.


H3: The Rugged Charm of British Jackets
British outerwear has had a lasting influence on global fashion. From the iconic trench coat to the timeless waxed cotton jacket, British designer jackets combine practicality with style. To incorporate British charm into your wardrobe, consider investing in a classic trench coat or a rugged waxed cotton jacket. For those wishing to make a progressive fashion statement, try London's Fashion Week's annual June and September exhibitions. The London shows keep pace with Milan, Paris, and New York, in showcasing the latest in contemporary designer wear. Witness the versatility of dressing up and dressing down in the latest fashions on display at the London shows - you might even catch the odd Shakespearean actor or world-class jazz pianist on the 'catwalk' dressed in the very latest designer jackets!
The Bold and Colorful World of African Designer Jackets
The Vibrancy of West African Prints
West African patterns and textiles are on display with unique designer jackets that are sure to turn heads. West African designer apparel often features bold, colorful prints and intricate embroidery, making them the perfect statement piece for any outfit. When incorporating West African-inspired designer jackets into your style, consider choosing a garment that highlights a single, vibrant pattern. You could also go all-out with a head-to-toe look by employing wonderfully colorful coordinating prints. Look to Lagos, Nigeria for the latest in West African fashions. This small state is the home of West Africa's signature contemporary designer wear.   
The Elegance of North African Designs
North African fashion has a rich history of influencing global jacket design. With superior elements such as intricate embroidery and luxurious fabrics, North African designs exude elegance and sophistication. The most formidably prolific North African designers live and work in Algeria, Egypt, Libya, Morocco, and Tunisia. This part of the world has become an international cultural hub that reflects the fashion ideas of local tribes, especially the Berba, as well as diverse Indo-European cultures. North African patterns, color palettes, and fabrics, have informed Western fashions for over a century. One always witnesses a North African influence on the contemporary 'catwalks' of London, Milan, New York, and Paris.  When buying designer jackets that showcase North African artistry, look for pieces that incorporate traditional motifs and textiles such as velvet or silk, and feature modern silhouettes that accentuate curve, figure, and form.  
The Fusion of Tradition and Modernity in Asian Designer Jackets
The Timeless Appeal of Japanese Kimono Jackets
The timeless Japanese kimono jacket, or "haori," is a stylish and versatile garment that reflects a rich cultural significance. The kimono jacket can be worn over virtually any outfit, adding an Eastern universal elegance to your look. Tokyo-based fashion brands influence global style, especially those that originate within Japan's hip and highly-disciplined youth culture. Outlandish Japanese style statements in punk, cosplay, Mori Kei, Lolita, and Gyaru styles, always become distinctive world trends as the global fashionistas keep pace with Eastern style and ingenuity. Remember to wear kimono-style designer jackets with slim-fit jeans and a simple t- or button-down shirt. Your jacket combo will surely take center stage.
The Modern Edge of South Korean Fashion
South Korean designer jackets have taken the global stage by storm, combining cutting-edge design with traditional craftsmanship. Embracing contemporary aesthetics, South Korean designer wear often features bold colors, unique silhouettes, and eye-catching details. To incorporate the South Korean look into your wardrobe, opt for designer jackets that blend modern design elements with high-quality materials and construction. Seoul's annual Fashion Week takes place every March and is home to South Korea's wonderfully diverse annual contributions to contemporary style. Don't miss it.
Embracing Latin American Flair with Designer Jackets
The Allure of Argentine Leather Jackets
Argentina is renowned for its distinctive leatherwork, and Argentine leather designer jackets offer exceptional style and value in this regard. With a focus on craftsmanship and attention to detail, Argentinian designer jackets reflect the epitome of quality and style. Discover contemporary Argentine designer fashions during the southern hemisphere's pleasant early fall weather (March) by attending Buenos Aires' Fashion Week shows. And when looking to buy designer jackets with an Argentine flair, seek out pieces made from Argentina's famous buttery-soft leather in classic silhouettes, such as the ubiquitous 'biker' and 'bomber' style jackets. Classic!
The Colorful Versatility of Mexican Poncho Jackets
The Mexican poncho jacket has a rich history and cultural significance, making it a unique addition to any hip contemporary wardrobe. With its colorful patterns and relaxed fit, the poncho-style designer jacket offers a modern, international look that can be styled in numerous ways. Attend Mexico's April Fashion Week in the western city of Guadalajara, to witness the latest in Jalisco's fashion-designer creations. And to embrace the versatility of contemporary Mexican designer-jacket apparel, consider layering a poncho jacket over a simple t-shirt and jeans, or dress it up with a tailored button-down shirt and chinos for a more polished ensemble. Both are classic looks exemplifying the poncho jacket tradition. 
Conclusion
Incorporating international designer jackets into your wardrobe can help you create a unique, personal style that reflects on the outside who you really are on the inside. By embracing global fashion influences and investing in high-quality, handmade garments, you'll not only elevate your wardrobe but also your self-esteem. Go ahead. Explore the world of designer jackets and let your clothes tell your story. And while you're at it, take a serious look at GhostCircus's stunning selection of contemporary designer jackets – you won't be disappointed!
---
GhostCircus Apparel is the official store for unique, luxury apparel by celebrity fashion designer, eli james.
eli james is the secret weapon for musicians (Twenty One Pilots, No Doubt, SUM 41, Papa Roach, Black Veil Brides, Sleeping With Sirens, Tim Skold, Escape The Fate), magicians/ illusionists (Joseph Réohm, Joel Meyers, Spidey and Leon Etienne), celebrities like Tara Conner, Ellen Degeneres, Adam Ross and more.
Since its creation in 2015, GhostCircus Apparel has become a household name and brings a future twist to modern fashion.
Clothes that move with you as you move through life. Shop GhostCircus Apparel today.
Did you enjoy this post about designer hoodies?
Here are two to read next: