Future Cross Roads Long Sleeve T-shirt
Regular price

$ 87.00
Sale price
Pickup currently unavailable
Share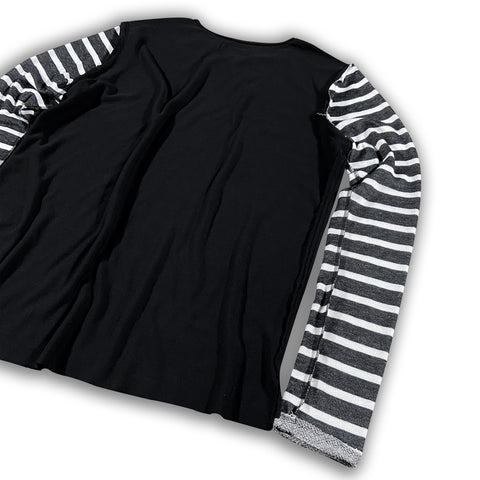 Future Cross Roads Long Sleeve T-shirt, Jet Black Lightweight Fleece with Stripe Sleeves
__________
This is an extremely unique and well made long sleeve fall tee. lightweight premium comfy jet black fleece body with a french terry stripe sleeve. Made from scratch from our friends here in Los Angeles, Ca USA!! Thank you SO much for your support of a small local USA company! (more info on made from scratch below).
+ recycled fabrics
+ twisted 
+ 7 oz french terry sleeves
+ comfy fitted
+ pre shrunk
____________
machine wash in cold water
with like colors
hang dry or tumble dry on low
__________
Dimensions:
S: Chest Width 42
" 
x Body Length 29" front 30" back
M: Chest Width:
44" 
x Body Length 29.5" front 30.5" back
L: Chest Width: 46" 
x Body Length 30" front 31" back
XL: Chest Width:
48" 
x Body Length 30.5" front 31.5" back
XXL: 
Chest Width: 50" x Body Length 31" front 32" back
XXXL: 
Chest Width:
52" x Body Length 31.5" front 32.5" back
_______
** Local Business - We Are Based in California Where Minimum Wage is $14.25 Per Hour; Each Member of Our Team is Paid Fair Wage and Every Sale Supports a Local Business Providing Jobs to Americans.
​Domestic Fabrics - Over 90% of Our Fabrics are From Our Mills, Here in the U.S. Not Imported. The US Dollar Does Not Stretch as Far as it Would if we Sourced Our Garments From Overseas.
Human Touch - ​Each and Every Garment is Cut & Sewn by a real person, not produced in a factory. It's the extra love that goes a long way.
​Donation - Over $60,000 and 25,000 face covers have been Donated due to the Support of Our Growing GhostCircus Family And We'd Love to Have You Join Us In Our Crusade to Make the Planet A Better Place.
​Labeling - Our Woven Labels are Designed in House and Sewn onto every garment at our HQ.
​Customization - Production, Embroidery, Studs, Eyelets, Patches, Unique Thread and Stitch Work is Done in House at Our HQ.
Designer - ​Each Fabric and Pattern is Carefully and Thoughtfully Chosen by Founder and Designer eli james to be Nothing Less Than Premium, Luxurious, Durable and Comfortable. **